THE FILM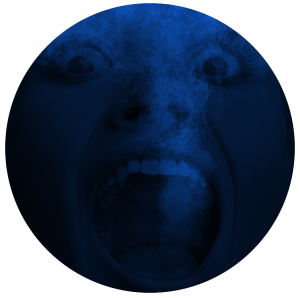 THE CLASSIC GHOST STORY

BECKY and ROB are a young married couple still wracked with grief years after the death of their 7-year-old daughter, SUSIE. After braving fertility treatments again, they are raising another daughter, HALEY, now 7 herself. The three are a loving little family, but Rob is concerned with Becky's overprotectiveness.
During this sensitive juncture in their lives, the family triggers its first of many "catalysts," innocent household accidents which awaken a sleeping spirit, initiating a haunting. Becky first insists that Susie is watching over them. Tensions heighten when she instead concludes that there is a hostile spirit in the house.
Not every accident conjures the entity, because not every accident relates to an event during its fatal beating, but enough mishaps occur for the entity to gather the knowledge and energy to become a true poltergeist, and eventually worse, as it tries to stop the offending sounds of accidents and the people who caused them.
DIRECTOR'S STATEMENT

"Heart" has been sorely missing in horror films (unless it is one ripped out beating and bloody). I believe for a thriller to work, we need to care about the characters; their realistic and affecting stories should just happen to be interrupted by the paranormal.
My reason for writing and directing The Catalyst was to breathe new life into the classic ghost story.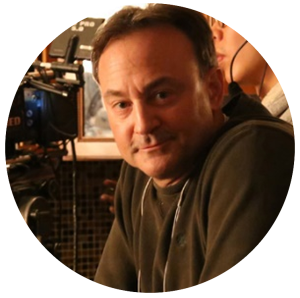 ALAN HOWARD FINE

WRITER / PRODUCER / DIRECTOR

THE CATALYST SHORT \ FILMMAKER BLOG \ CAMPFIRE GHOST STORIES
Alan Howard Fine is a travel and screen writer, director, producer, editor and composer. Fine has worked for DreamWorks and Paramount Pictures, and has sold screen and teleplays to TriStar Pictures, Universal Studios, USA Networks and Pachyderm Entertainment.
Fine wrote and directed the short film, "The Catalyst," which was released in October 2016 as a proof-of-concept for a feature film. The short won ten awards before being pulled off the festival circuit to be developed with co-production company, Moving Pictures Media Group.
Fine co‐created, produced, directed and edited six educational films in the successful "Classroom Encounters" series, which is sold to libraries and schools domestically and internationally. Fine directed infomercials for Roth Advertising as well as directing readings of his play "Fountain of Youth" at both the prestigious Neighborhood Playhouse and at the Actors Theatre Workshops in Manhattan.
Fine served as technical consultant for Pop.com, Steven Spielberg and Ron Howard's Internet company in Los Angeles. He created a demo for the world's first interactive situation comedy for the Internet with Visionati and Syzol New Media.
Fine appeared as an actor on "Cheers" and other shows, and has been a stand-up comedian who has appeared on Comedy Central and was a winning contestant on "The Dating Game." Fine is a member of the Dramatists Guild, Writers Guild of America and the Screen Actors Guild.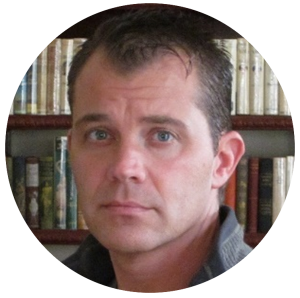 RAY ELLINGSEN

PRODUCER

Ray Ellingsen began his film career in 1987 as a writer. He has since gone on to pursue numerous aspects of filmmaking, from directing and producing, to supervising post production of feature films, documentaries, and commercials. In 1999, Ellingsen helped form the motion picture entertainment company, Ugly Old Bird Productions, which produced a number of film and video projects during its five years of doing business.
Ellingsen moved to Arizona in 2005 to manage the largest motion picture film studio in the state of Arizona, Hollywood-Phoenix Film Studios. Within a year, Ellingsen brought in three feature films, numerous commercials, as well as a television series for the studio to produce. Ellingsen left the studio and moved back to Los Angeles to further his filmmaking career.
To date, Ellingsen has written and directed two documentaries and a feature film, along with a multitude of commercial, instructional and industrial projects. He has also produced nine feature films and over 30 video and commercial projects, with two feature films currently in development.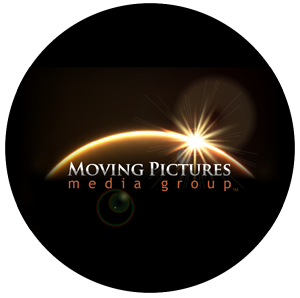 MOVING PICTURES MEDIA GROUP

IN ASSOCIATION WITH

Moving Pictures Media Group, also known as MPMG, is a production company founded for motion picture, television, and internet content. MPMG provides a full suite of services to assist independent filmmakers, production companies and investors in the development, production, post-production, distribution, and marketing of their projects. Managing Director and Chief Creative Officer, Michael Minkler is a three-time Academy Award winner for his outstanding work on Black Hawk Down, Chicago, and Dreamgirls. A seasoned professional who has collaborated on over 200 projects with Hollywood's elite directors, his most recent works include the Academy Award winning film, The Hateful Eight, written and directed by Quentin Tarantino. Chief Legal and Operations Officer, Ron Takehara, has a wide range of legal experience in the entertainment industry, from high profile cases involving motion picture and television industry litigation, to representing entertainment production companies, television networks, actors, stunt men and women, and screenwriters.